Our sitting president does a little more sitting than most. Atop his golden throne, he dumps out decrees on a platform more frequently filled with teens and trolls. Armed only with a cell phone and an innate talent for dividing the country, this tiny take on USA's Number One is busy dropping number twos.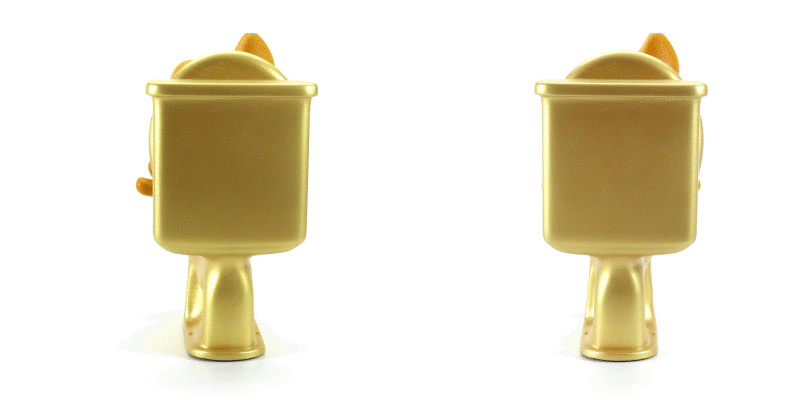 If this fowl looks familiar, it's because he's no stranger to reality star‑dom (he's YUGE in China). This bird blew up state‑side when he made a cameo on the Whitehouse lawn and was made popular in numerous marches and events throughout the country.

I created the original design in 2016 to commemorate the Year of the Rooster. It just so happened to coincide perfectly with America's most infamous election. As a result, the rooster's similarity to #45 became legend. Now myself and my business partner Kevin Kelly represent the team that has shat out Twitturd.  
AND NOW YOU CAN OWN A PIECE OF THE POO-PARODY! 
This vinyl toy comes in two pieces: potty and poultry. Together, they stand approximately 6" tall. Worried your boss isn't a fan of tiny desk toilets? No problem. This bird can perch sans‑commode on any surface, making him suitable for even the stuffiest office spaces. Twitturd comes in two stately color-ways, to cover both white‑collar and blue‑collar bases.
Guaranteed to make liberals laugh and conservatives cringe (in a good way, of course), it even works as a thoughtful gift for that oh‑so‑special fake news fan. Just give 'em the bird.
And if tiny toilets aren't enough to satisfy your love of satire, we've got a whole host of verified sh*t up for grabs. Let's Make Kickstarter campaigns great again (jk, they're rad already).